See English informations below!
Hier kommt er nun also, der erste Teil vom Christmas SAL.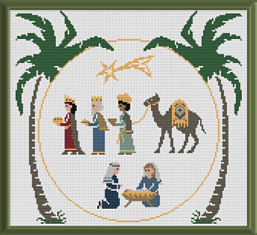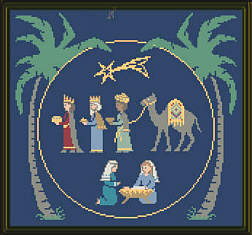 Als ich das Muster machte, gab ich ihm den Namen "Heilige Nacht".
Mit den Vorlagen hatte ich einige Probleme.
Deswegen gibt es nun zwei Auswahlmöglichkeiten, und ich hoffe mit einer - oder der Kombination aus beiden - könnt ihr zurecht kommen.
Hier ist die Vorlage als PDF Datei herunterladbar, mit schwarz/weiß Symbolen.
Bei dieser Vorlage ist eine Überlappung zur nächsten Vorlage eingezeichnet. Die eigentliche Vorlage endet bei der durchgezogenen Linie!
---
Download:
Heilige-Nacht-1
(pdf, 27 KB)
---
Oder:
Wenn ihr auf die Verkleinerung unten klickt, könnt ihr die Vorlage in meinem Album mit Farbe und Symbolen speichern.
Hier gibt es keine Überlappung. Ende ist die rote Linie, die rechts und unten zu sehen ist.
Diese Farbvorlage ist von mir nicht selbst als Ausdruck getestet und ich kann momentan leider auch nicht drucken :-(
Für die Farben richtet euch bitte nach diesen
Farbschlüsseln
oder sucht euch selber Farben aus die euch gefallen.
Nächste Vorlage: Freitag 17. Oktober.
Viel Spaß beim Sticken!
---
Kissy-Cross Christmas SAL 2008
You can download the PDF file above or save the color chart in my Flickr album.
I'm not sure if the chart from my album will print out very well. It might be a good idea to use both charts as a reference.
Please notice, that the PDF file shows an overlapping row, the chart from my album does not!
See the colour key
here
or simply make your own choice.
Second part: October 17th