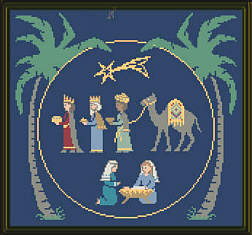 Schon ist der letzte Teil an der Reihe!
Es ist wieder einmal kaum zu glauben wie schnell die Zeit verging.
Die Teilnehmerzahl an diesem SAL war eher gering - so ist jedenfalls mein Eindruck.
Umso mehr hoffe ich, dass alle die den SAL begonnen haben ihn auch für das Weihnachtsfest fertigstellen werden und mir ihre Fotos schicken. Damit es auch dieses Jahr eine schöne Galerie geben kann.
Bitte geht auf meine
Homepage
und benutzt die E-mail, die ihr dort vorfindet, um mir die Bilder zuzusenden.
Wenn ihr eure SALs in einem der Foren zeigt, die ich ebenfalls besuche ist dies selbstverständlich nicht notwendig, ich werde mir die Bilder dann von dort speichern.
Ich werde die Bilder wieder bis kurz vor Weihnachten sammeln und dann zeigen.
Nun wünsche ich euch noch viel Spaß bei der Fertigstellung!!!
Und fast hätte ich ihn jetzt vergessen ;-)
Hier kommt Teil 4
Download Part 4
Heilige-Nacht-4
(pdf, 29 KB)
Please send me pictures of your stitched Christmas SAL!
Use the e-mail address you can find on my
homepage
.